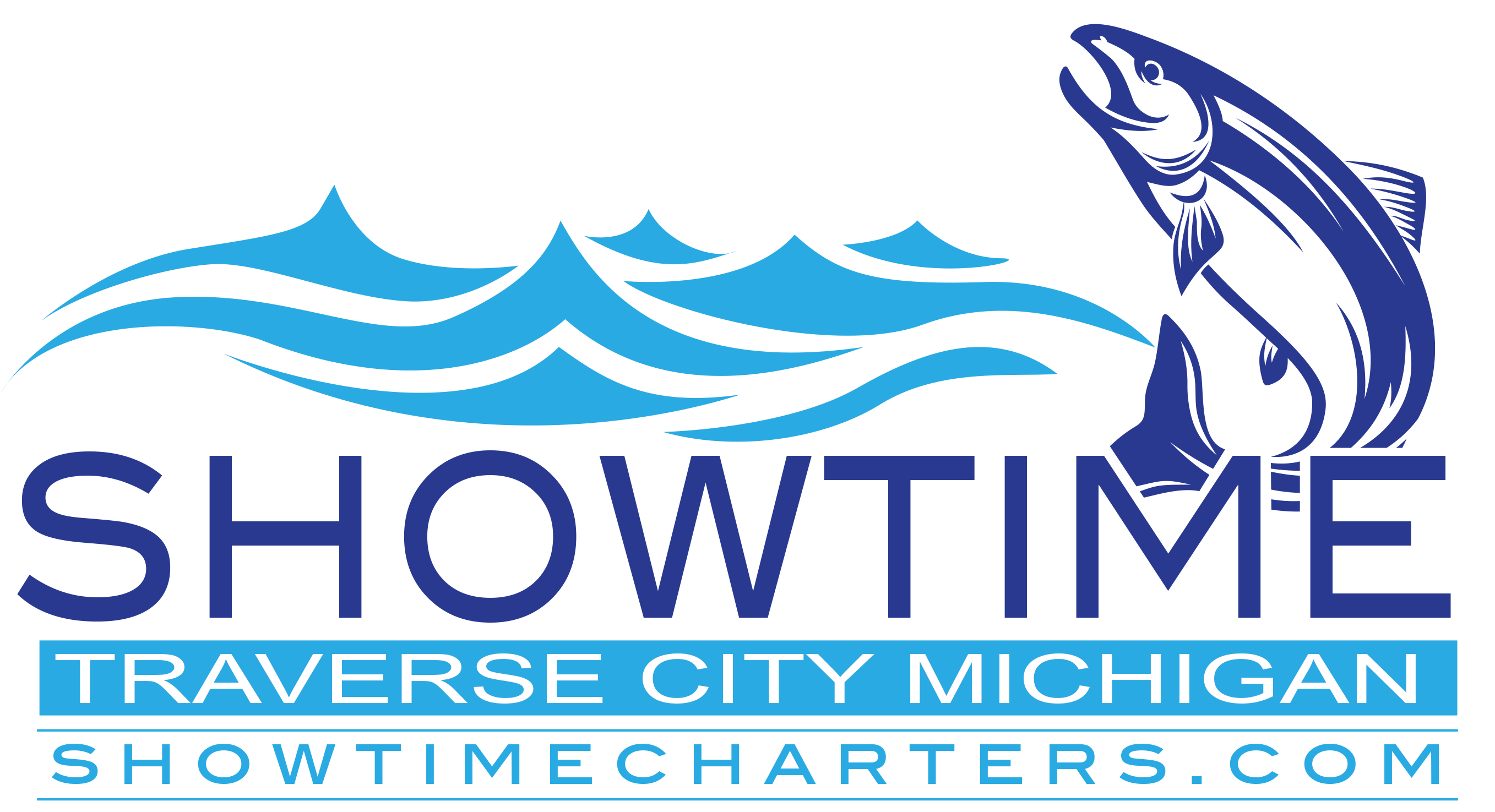 Enjoy successful sport fishing in beautiful Grand Traverse Bay
The most respected carter captain in Traverse City and the most consistant catch producer.

My husband and son had an incredible morning of fishing. They caught their limit of trout and had a great time with Cam and Johnny who did a fantastic job with our 10 year old son. I highly recommend if you are interested in a good day on the lake. This was the highlight of my husband's vacation!

Cam and Johnny rock it. Always a blast!!!

Our time on the water was a exceptional experience.

Unforgettable experience! My entire family loved it from 6yrs to 40! Cam's extensive knowledge of the bay area, coupled with his obvious passion for people made it a one of a kind experience you wont find anywhere else. Cam and Johnny make a great father and son team that will be sure to make your day enjoyable!

Great trip, good company, wonderful crew! Thank you!! Recommend Showtime for any fishing trips!

We had such a great morning fishing with Cam and Johnny! All 5 of us caught fish and had a blast!!

best fishing charter. Not only for the depth of fishing experience but their willingness to share the where, why and how the fish are caught all why having a great time. Showtime; they do put on a good show.

We had a great trip with Cam and Johnny yesterday. Caught fish and enjoyed a day with friends and a wonderful captain and mate.

This was our second trip on the Showtime and we would highly recommend them to everyone. We have fished for many years and, even tho we are family, we have to say that Showtime has been the best fishing experiences we have had anywhere. Bill & Dale

It was a great time made sure we had fun looking forward to go back next year.

Great day fishing! Crew is very knowledgeable. Very comfortable boat and great equipment.

This was our 12th year fishing with Cam. What a beautiful night out on the water, catching 4 lake trout wasn't bad either! Even caught a 20 pounder!
I would highly recommend them - Showtime is the best!

Lots of fun and great fishing! Captain Cam and his first mate have us coming back every year.

We booked last minute and they were able to accommodate! We had such a great time! We learned to fish and my son got to steer the boat! He said it was the best day of his life! The boat was so nice and clean. We would do it again! Captain Cam and Johnny were so helpful! A great experience and worth the money!

Cam and Johnny are great guys to hang out on a boat with. The bonus is that they're good at catching fish as well!

Cam & Johnny were both knowledgeable, very friendly & fun! we all had a great afternoon on the lake!

Absolutely the BEST in all of Northern Michigan! You're sure to have a great time on one of the nicest fishing boats in the area!

Great Captain that put us on the fish and great conversation!

Thanks Captain Cam and John for 2 great trips. The boys and I had a great time. It will definitely be Showtime next time we're in TC.

Got selected to attend a Veterans fishing trip a few years ago. Show time was the charter, using two of their boats. Followed by a feast at Herringtons. Absolutely awesome trip.
Now I live in the area and have a boat to chase these fish...Capt Cam is quick to respond with my questions about fishing the Bay, but as any fisherman, keeps his secrets secret. Thanks again Capt. Trips like that have more impact than you'll ever know. ??

Fishing with Captain Cam and mate John was perfect. I have fished with Cam over many years and I always look forward to seeing him and having him put us on fish.
Gorgeous morning and three salmon in the box, 22, 18 and 18 pounds. Can't go wrong if you want to fish West Grand Traverse Bay with an experienced and intelligent captain. Boat is roomy and always very clean. Equipment is always first rate. No boat ramps to deal with as the Showtime is ready to go from its dock location.
Dr. Tom

We had a great day fishing. We hit limit easily. Captain Cam and John are excellent. They even gave us a great recommendation for a restaurant that cooked our catch. Outstanding!

My family and I had a wonderful time fishing with Cam and Johnny. My 2 son's absolutely loved the experience. We look forward to doing it again. Cam and Johnny do a fantastic job!! It was the highlight of our trip to Traverse City this year.

Took the family fishing with Cam and Johnny and had a really great time. We caught a bunch of fish ? and had a lot of laughs. Really great memories were made this morning. I would recommend Showtime to anyone wanting to go on a charter. Well worth the money!! Until next time Showtime, thank you for a great day fishing!!!

They are awesome!! So patient and kind!! It made our fishing experience wonderful!! Thank you so much!
Up to 6 Fishermen $495
Over 35 Years of Lake Michigan Experience
Morning or Afternoon Trips
Large Boat with Cabin
Twin 454 Inboard Engines
Room to Move About
On Board Restroom Facility
Computer Fish Finding
All Tackle Provided
Experienced First Mate
Catch Cleaned & Bagged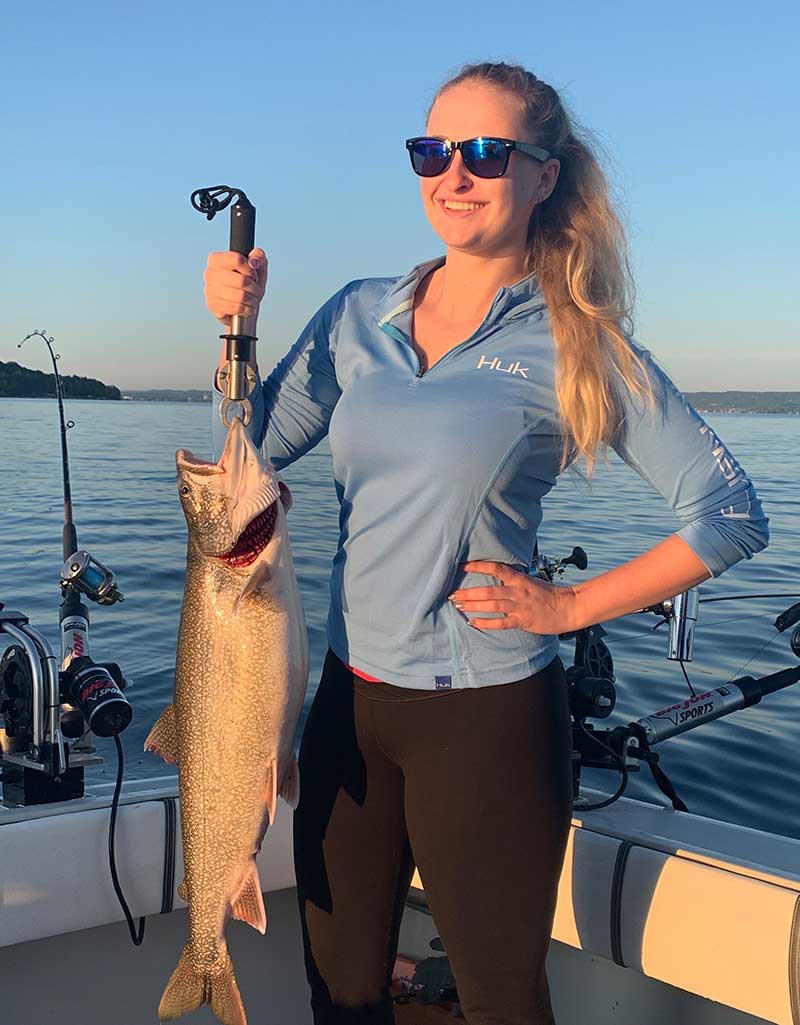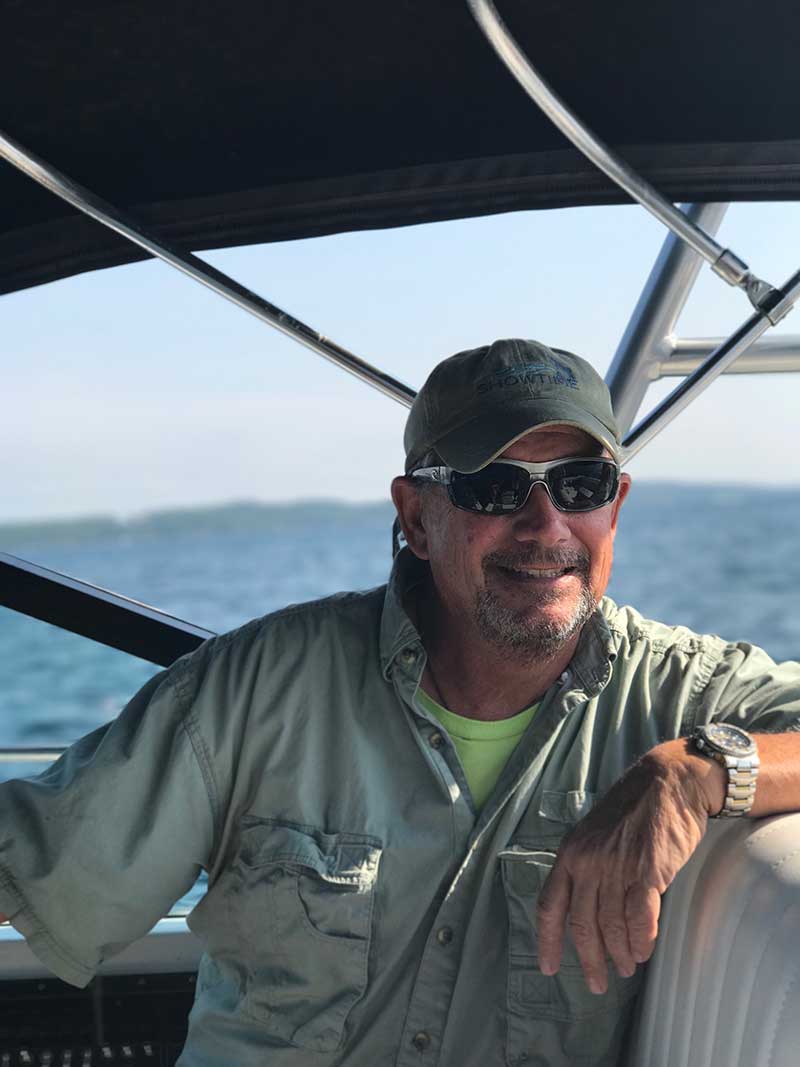 For over 35 years Cam Garst has captained Great Lakes fishing charters. He has not only developed a unique sense of how to find the trophy fish, he has also honed the ability to make the charter fishing experience memorable no matter what the fishing conditions are like. His experience with the sometimes tricky Lake Michigan waters creates a safe and exciting fishing adventure.
Captain Garst started Showtime Charters in 1982 with a 27′ Chris Craft boat. A year later he quit his job in newspaper management to turn his fishing passion into his full-time occupation. Since then Cam has directed the growth of his company to become Traverse City's most successful charter boat operation.
You'll see him at the helm of his 31′ Tiara fishing craft. His long list of repeat clients is a testament to the adventures experienced at the hands of Captain Garst.
"Every trip is fun and exciting," says Garst. "The clients are different, the weather changes and the catch varies. I get to watch an eight-year old land his first ever fish, then get excited as older couples just enjoy the pleasure of fishing this magnificent Great Lake. It's a thrill I'll never take for granted," Garst adds.
First Mate Johnny & Junior Captain Greyson
Johnny Barlow comes to us from the South.  You'll hear it in his twang! He spent his youth fishing the lakes in Northern GA, and the Gulf Coast in Panama City Florida.  As a young man, Johnny started working for a large printing company, International Paper.  With tenacity and grit, Johnny put in 23+ years at International Paper, leaving as a successful Project Manager. Northern Michigan was calling Johnny's wife Megan, home.  It just so happens that Megan, is Captain Cam's daughter!   They made the move, in tow with their son Greyson, the Junior Captain. Johnny quickly became the missing link on the Showtime, and joined the team as the First Mate.  Family is always first.  One day, Johnny will pilot the Showtime, keeping her in the family.  Who knows, maybe even Greyson will be promoted to THE Captain!
From Captain Cam:  It's exciting for me to have my son-in-law,  Johnny, aboard the Showtime, as her First Mate.  Having a knowledgeable angler as the First Mate always make the charter fishing experience better for all. It's special to me, when my guest anglers can see and feel the great duo Johnny and I have become.  And even sweeter knowing he will one day navigate these waters as the Captain. I know these waters like the back of my hand.  It gives me great pride to pass this on to Johnny.  My best trout spots, the different banks, and deep drop offs.  Johnny is thirsty to learn, and very teachable.
Johnny is also a great teacher.  He is wonderful with my young anglers.  Putting a young boy on his first trout or salmon is his specialty!  I know everyone who boards the Showtime will enjoy having Johnny as part of this team, as much as I do.  Maybe even Greyson one day!
Frequently Asked Questions
Alcohol?
Beer is fine, however liquor is discouraged.
Why should we fish with Showtime?
I get asked this question sometimes, so let me answer it here. I have been fishing West Bay since 1978, professionally since 1982. We have over 80% repeat clients, some for over 20 years. Fishing professionally is all we do, we know where the active schools of fish are because we are out there nearly every day. When you fish with Showtime you will find our boats are clean and meticulously maintained, our equipment is top shelf, and you will always fish with Cam. We do not hire part time captains. You will always fish with the owner.
When we have completed our fishing for the day and returned to the marina, we will take your catch to our private cleaning station. After some pictures, your catch is cleaned, rinsed with fresh water and put in freezer bags. Your filets are never rinsed with nasty marina water. We all know what the ducks and geese do in the marina water!
West Grand Traverse Bay is not only beautiful, but very protected. It is extremely rare for these waters to be rough. Big waves can ruin a fishing trip!
What should we bring?
I always tell my anglers to bring whatever they want to eat, drink, or wear! You will want to dress for the weather, dress in layers. Wear soft soled, clean shoes and don't forget sun screen and sun glasses. You will need a cooler to transport your fillets. Your captain and mate will clean your catch free of charge.
Leaving the dock.
You need to be on time, especially for morning trips during Salmon season. The very best times for our Salmon are dawn and dusk.
Do I need to leave a deposit to hold a charter?
I routinely take a credit card number to hold a date for a charter. This guarantees your group the boat for that date. The card is NOT charged except for a no show. Charters can be cancelled within 1 week with no charge.
How do I pay for the trip?
Payment for a charter is expected after the fish are cleaned. Although we are able to accept most credit cards, Venmo, checks or cash is the preferred method of payment.
Contact us Online to Book a Charter!
Find Showtime
Showtime Charters is easy to find as we are located on the West side of West Grand Traverse Bay, only 2 miles from downtown Traverse city.
GPS : N 44°47.419′ W 85°38.119′
12935 S. West Bay Shore Dr. 49684
From the intersection of M72 West & M22 North, drive North on M22 for 1 mile. On the right you will see the Centerpointe office building. This is a 4 story brown building right at the marina. You can park in the main parking lot on the upper level of the office building. Stairway to the marina level is in the SE corner of the parking lot.
Please do not park in the lower level.
As you look toward the water you will notice a large flag pole (taller than the building), the Showtime is 100 yards straight east in slip 17.